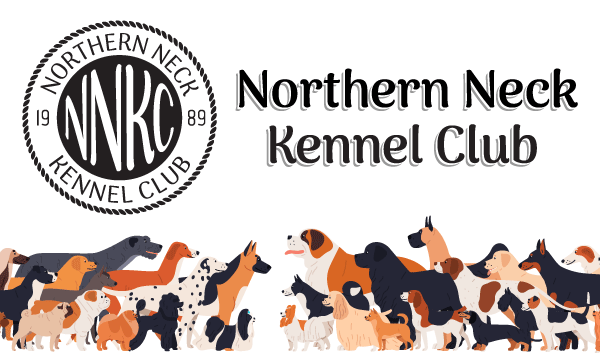 About The Northern Neck Kennel Club

The Northern Neck Kennel Club is an AKC sanctioned kennel club based largely in the counties of Lancaster, Northumberland, Richmond, and Westmoreland. The major focus of the Club is to do all in its power to encourage and promote responsible dog ownership through obedience classes, educational seminars, and community-based programs designed to expand public awareness of proper dog care and responsible dog ownership.
The Annual Meeting is held in July.
Detailed information about the classes and registration is posted under Dog Training Classes.
In conjunction with the Greater Fredericksburg Kennel Club and the Charlottesville Albemarle Kennel Club, we sponsor a very popular 5-day AKC all breed Dog Show. This show which is actually 5 separate events is known as the Celebrate Virginia Cluster. It is held in August at the wonderful The Meadow in Doswell, Virginiax. Typically there are more than 5,000 entries!
Spring Classes
All Classes are for 7 weeks and Begin the Week of May 17. 2021
Class size is limited so be sure to register early.
New Location:
Rice's Hotel and Hughlett's Tavern, 73 Monument Place, Heathsville VA 22473
Cost:
$50 Club Members
$70 Non-Club Members
Tuesday
Basic Obedience - 3:00 - 4:00 outside
Open to all dogs 8 months and older
Instructor: Kay Guy (804) 580-4078 or email: k9wabi@gmail.com
Wednesday
Canine Good Citizen - 4:00-5:00 outside
Pre-requisite: Basic Obedience or Manners
Instructor: Peny Gallogly email: peny.spritely@gmail.com
Please contact the instructor of your class to sign up.