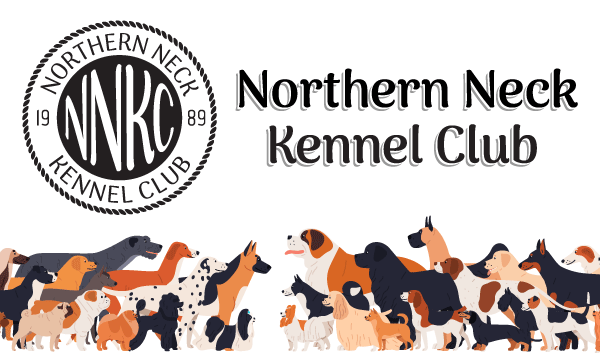 The Northern Neck Kennel Club

The Northern Neck Kennel Club of Virginia (NNKC) is an AKC-sanctioned non-profit kennel club based in the counties of Lancaster, Northumberland, Richmond and Westmoreland. The major focus of NNKC is to encourage and promote responsible ownership for all dogs through obedience classes, educational seminars and community-based programs designed to expand public awareness of proper dog care and best practices.
The Annual Meeting is held in July. NNKC is actively seeking new members and volunteers to help with our programs.
Information about 2021 classes and registration is posted below and under Dog Training Classes.
In conjunction with the Greater Fredericksburg Kennel Club and the Charlottesville Albemarle Kennel Club, NNKC sponsors a very popular 5-day AKC all-breed Dog Show. This show, known as the Celebrate Virginia Cluster, will be held in August 2021 at the wonderful venue The Meadow in Doswell, Virginia. With more than 5,000 entries, this is a marvelous opportunity to enjoy your favorite breed in action.
Annual Meeting
July, 17 2021
The Northern Neck Kennel Club will hold their July Annual Meeting on Saturday, July 17, at Bay Quarter Shores Clubhouse, starting at 2:00 p.m. The address is 1004 Bay Quarter Dr, Heathsville, VA 22473. Please CLICK HERE for a map of the community.
A short business meeting will open the program including presentation of the slate of new Directors. Food will be served at 4 p.m.
Dogs are welcome; however, they must be leashed at all times and are not allowed in the clubhouse. Please plan accordingly for the heat and do not leave your dog in a car.
All food, water and serving utensils will be proved by a food service vendor at the expense of the Club. Please bring your own drinks. Due to Covid protocols, the traditional pot-luck has been discontinued.
The highlight of the July Annual Meeting is the vote for a new Board of Directors. The slate is as follows:
President – Diane Trinko
Vice President – Lea Bruffy
Secretary – Peny Gallogly
Treasurer – Kay Guy
Director at Large – Clare Adams
Director at Large -Sandy Saxer
Director at Large – Catherine Bennett
Please RSVP to no later than Monday July 12 to Kay Guy, at 804-580-4078, or at email Kay at: k9wabi@gmail.com.