Northern Neck Kennel Club Dog Training Classes

Fall Class Offering
Classes last for 7 weeks beginning the week of September 13. Registration closes September 6. Class size limited.
2021 Location:
Rice's Hotel and Hughlett's Tavern, 73 Monument Place, Heathsville, Virginia 22473
Cost:
$50 NNKC Members
$70 Non-members
To enroll please contact the instructor. 
Tuesday:
Basic Obedience
3:00-4:00 p.m.
Open to dogs 8 months and older
Instructor: Sandy Saxer, email: sjsaxer@gmail.com
Basic obedience will help you and your dog learn, grow and bond. Tired of barking, lunging, jumping and annoying behavior? With a few basics, learn to communicate effectively your dog and teach sit, stay, recall and walking calmly on a leash using positive reinforcement.
Wednesday:
Canine Good Citizen
4:00-5:00 p.m.
Prerequisite: Basic Obedience or Manners
Instructor: Peny Gallogly, email: peny.spritely@gmail.com
The AKC's Canine Good Citizen program is the gold standard of behavior for dogs in many communities. Teach your dog the 10 steps to becoming a Certified AKC Canine Good Citizen. CGC testing is held the week after the last class.
Northern Neck Kennel Club Announces Successful Conclusion of August 2021 Dog Show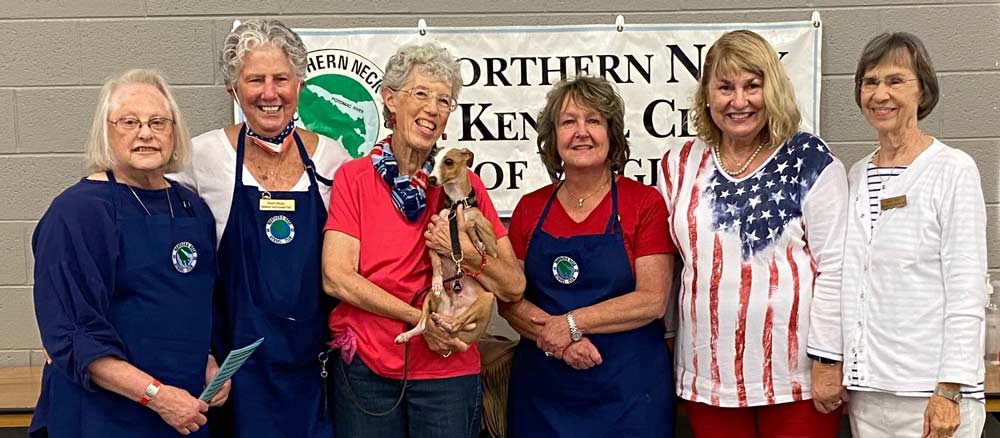 The Northern Neck Kennel Club (NNKC) is delighted to announce the successful conclusion of the Celebrate Virginia Cluster. This very popular 5-day AKC all-breed Dog Show was held this year at The Meadow Event Park in Doswell, Virginia, August 25 through 29.
Diane Trinko, NNKC President, said "I would like to congratulate the show committee on a job well done with special gratitude to show chair, Gwen Keane, and assistant show chair, Lea Bruffy, for their leadership working through the myriad details of putting on a major AKC show. Club members Catherine and Robert Bennett, Peny Gallogly, Kay Guy, and Bobbi Weeks provided invaluable hands-on support both on the committee and during the show itself. Our Club was thrilled to be able to support this exciting event showcasing top dogs from around the country."
The NNKC hosted the show in conjunction with the Greater Fredericksburg Kennel Club and the Charlottesville Albemarle Kennel Club.
NNKC is a non-profit organization dedicated to expanding public awareness of responsible dog ownership through community educational programs. Membership is open to all.