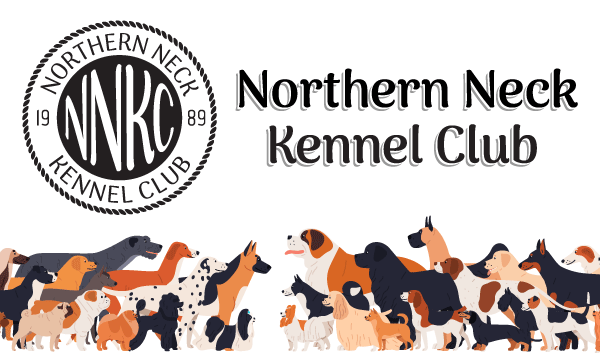 The Northern Neck Kennel Club

The Northern Neck Kennel Club of Virginia (NNKC) is an AKC-sanctioned non-profit kennel club based in the counties of Lancaster, Northumberland, Richmond and Westmoreland. The major focus of NNKC is to encourage and promote responsible ownership for all dogs through obedience classes, educational seminars and community-based programs designed to expand public awareness of proper dog care and best practices.
The Annual Meeting is held in July. NNKC is actively seeking new members and volunteers to help with our programs.
Information about 2021 classes and registration is posted below and under Dog Training Classes.
In conjunction with the Greater Fredericksburg Kennel Club and the Charlottesville Albemarle Kennel Club, NNKC sponsors a very popular 5-day AKC all-breed Dog Show. This show, known as the Celebrate Virginia Cluster, will be held in August 2021 at the wonderful venue The Meadow in Doswell, Virginia. With more than 5,000 entries, this is a marvelous opportunity to enjoy your favorite breed in action.
UPCOMING DOG SHOWS AUGUST 2021
Celebrate Virginia Cluster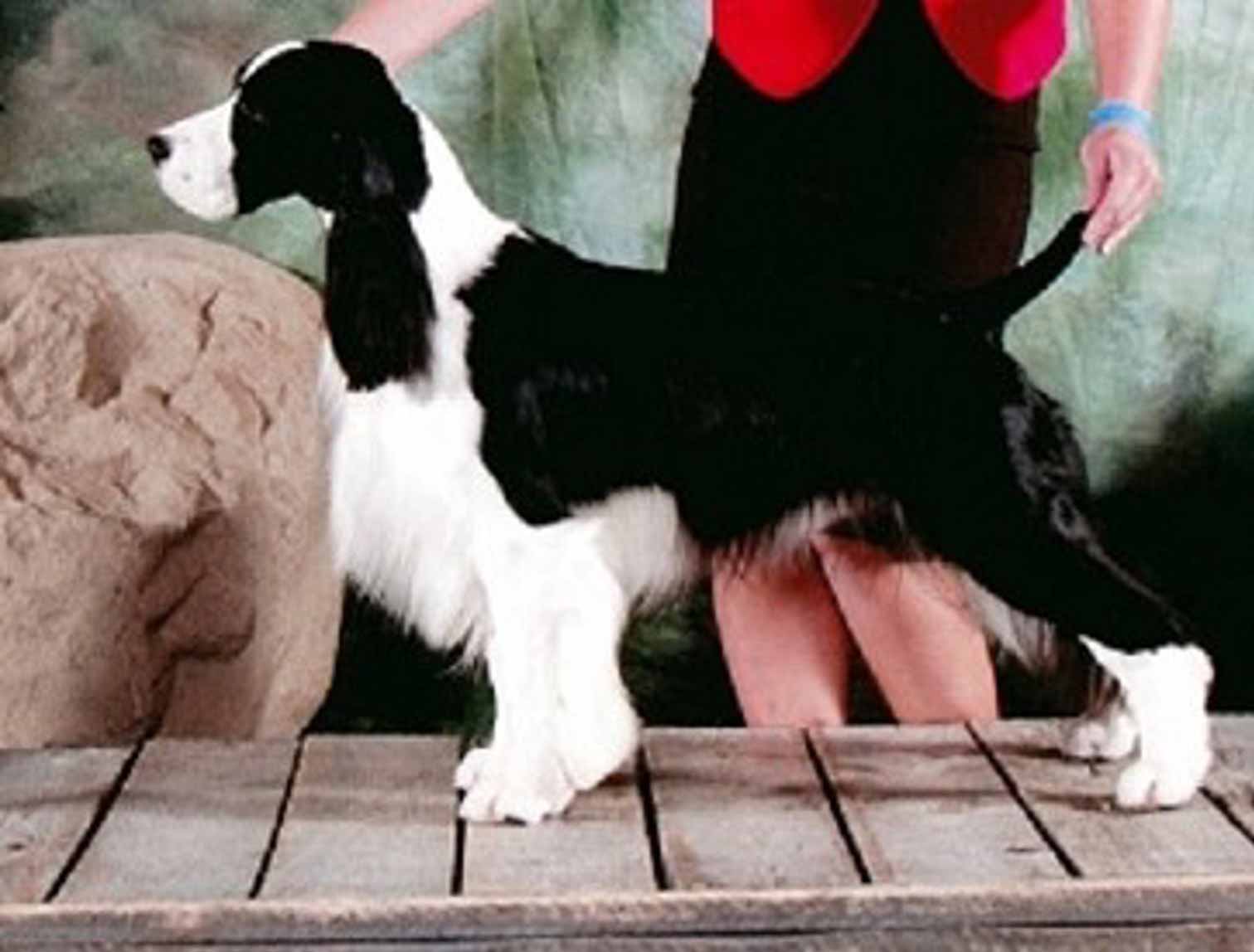 WHO:
Northern Neck Kennel Club of Virginia, Inc.
August 25 & 26, 2021
Greater Fredericksburg Kennel Club, Inc.
August 27 & 28, 2021
Charlottesville-Albemarle Kennel Club, Inc.
August 29, 2021
LOCATION:
The Meadow Event Park
13191 Dawn Blvd., Doswell, VA 23047
meadoweventpark.com
SUPERINTENDENT:
MB-F, Inc.
Phone 336-379-9352
infodog.com
PO Box 21107, Greensboro, NC 27420
DIRECTIONS:
From 1-95, take Exit 98 (Doswell) and travel 1 ½ mile east on State Route 30. Meadow Event Park entrance is on the left. View on Google Maps
NORTHERN NECK KENNEL CLUB ANNOUNCES NEW CANINE GOOD CITIZENS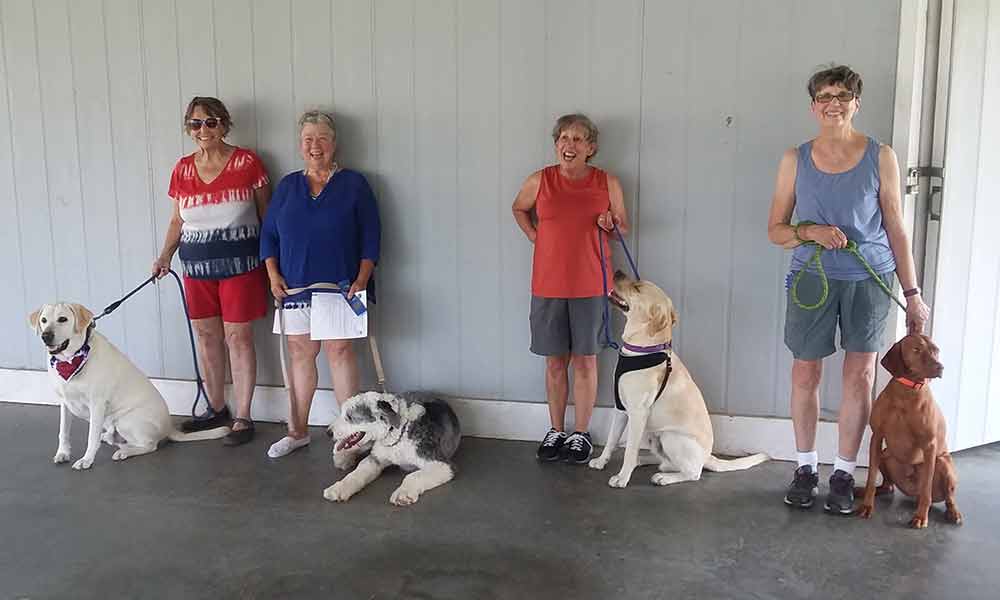 Proud CGC 2021 graduates are all smiles: left to right owners Kris White with Romper (Labrador Retriever/Golden Retriever cross), Catherine Bennett with Abby (Old English Sheepdog), Bryna Brennan with El (Labrador Retriever/Golden Retriever cross), and Sharon Hunt with Sayler (Vizsla).
The Northern Neck Kennel Club (NNKC) and instructor Peny Gallogly are proud to announce the successful conclusion of the Spring 2021 Canine Good Citizen (CGC) class. Handlers and their dogs were judged by Gloucester Kennel Club members Joan Podd and Beverly Spencer on July 7, 2021. The class and final test were held at the Heathsville pavilion at Rice's Hotel/Hughlett's Tavern.
Owners Kris White, Catherine Bennett, Bryna Brennan and Sharon Hunt participated in the seven-week course which required practice outside of class. Gallogly noted that "the AKC's Canine Good Citizen program is the gold standard of canine behavior. Dogs who pass the CGC test are considered reliable family and community members and receive a certificate from the AKC. It is also considered an entry level certification for therapy dogs."
Gallogly went on to say "dogs are evaluated on ten items in a simulated situation and a relaxed, noncompetitive atmosphere. The test includes greeting a friendly stranger, sitting politely, being groomed, walking on a loose lead, behaving well around other dogs, and reacting with confidence to a distraction. Standard obedience behaviors are also tested such as the commands to come, sit, stay, and lay down. The final test is leaving the dog with a trusted person while the handler is absent."
Once a bi-annual community feature of the NNKC, training classes were suspended during the 2020 Covid pandemic. "The 2021 resumption of training for the Club is most welcome," says Diane Trinko, NNKC President. "It is a practical and fun community activity and supports our goal of sound pet ownership and care."
NNKC is a non-profit organization dedicated to expanding public awareness of responsible dog ownership through community educational programs. Pure breeds and mixed breeds are welcome. For more information, please see northernneckkennelclub.org.